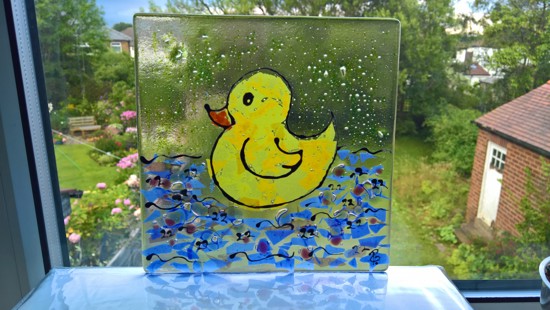 I went to visit my friend Zoë at her stained glass studio in Leeds. Zoë designs and makes beautiful stained glass windows and has done installations in Leeds and all over Yorkshire.
She was running a glass fusing workshop teaching you how to design and make a glass placemat. My design is of a duck (I'm a bit obsessed with ducks at the moment, but I'll probably get over it). I spent some time getting my design right on paper first before tracing that onto the glass. There are two layers of glass that get melted together in the kiln. There are lots of options of which layer of glass you draw onto and the different types of glass flakes and granules you can melt onto each plate of glass. I found it very calming and a very fun and satisfying way to spend an afternoon.
In the picture below you can see Zoë placing my glass in the kiln, along with some more tasteful designs of her own around the edge. The glass goes into the kiln for eight hours so I had to go and collect my glass another day. I'm really pleased with the result and can hardly believe that I made it.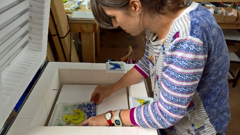 You can find out more about Zoë and her work in Leeds on her glassmaking website.