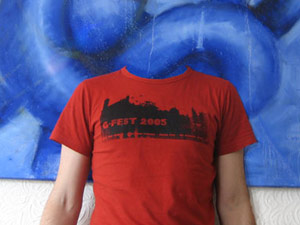 G-Fest was a small garden party with a difference. I enlisted the skills of my various tallented friends to play live music and put on visuals.
They did all the difficult stuff leaving me with the more enjoyable task of designing the brand for my mini festival and creating this T-Shirt.
About 30 people are lucky enough to own one. I'm very proud of it, and it is by far my favourite T-Shirt. It's even better when I see my friends wearing theirs. It's a great feeling seeing your stuff out there.