The Faculty - origami flyer
I designed this flyer for an Internet Cafe that opened on Hyde Park corner. The cafe didn't even last long enough for my flyer to get handed out. So, it's a shame that not many people got to see it.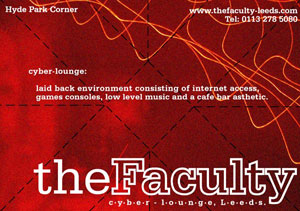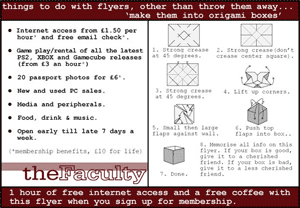 When I was thinking about the project I thought about how many flyers you get, look at quickly and then throw away. I wanted to make people keep this one for longer. I decided the best way to do that, was to teach them to make something out of it.
That's where the origami idea came from. This was to be the first of a series of them and had instructions on how to make an origami box.
I think I could have done better with the back of the flyer. The client had a lot of information they wanted to show. This made it difficult to get the look layout right, but I still think I could have done better. I'm still really pleased with it. Particularly the idea, which is one that I'd like to revisit. Everyone who saw the final flyer loved it and played with it for ages.