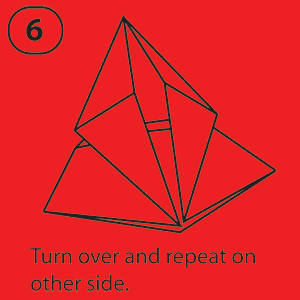 When I went to the first GeekUp event in Leeds I became very jealous of everyone's lovely business cards. I decided it was time to sort that out and make my own. I wanted mine to be a little bit different and hopefully be something that people would remember.
I've loved origami since my trip to Japan in 2002 and thought this would be an excellent thing to use. I'd also tested the idea in a previous project and it had been very successful.
Now the design is done, they're quite easy to mass produce. The hardest part of the design was drawing the diagrams and making the instructions clear. It's good to flex my artistic muscles though. The true test of how good the instructions are will be if people can follow them.
You can download the origami crane business card template and have a go for yourself.
This may be the first in a series of different origami business cards.
Update:
Several people suggested it would be good to be able to share pictures, locations and stories of their made origami. I thought this was a brilliant idea. To give the idea a go and still keep it simple I've created a Flickr group for it. Please add your pictures and geo-tag them if you feel so inclined.
There are now video instructions.